Unlike Korean women who love to flaunt dewy or glass skin, Japanese women are known to glorify porcelain-looking or mochi-hada skin. A soft, supple, and nourished skin is what they're after. That's why a Japanese skincare routine requires double cleansing and moisturizing. 
With these objectives, there's no doubt that a step-by-step Japanese-style daily skincare routine can work well with every Filipina who knows her skin type. Here are the steps: 
Step 1: Double-Cleanse
First, find the best facial cleansers that work for you. You need two products here, one that can remove heavy make-up and grime and one that's perfect for sensitive skin. You don't have to buy products from Japanese brands, but the most affordable Japanese facial cleansers available locally are Biore Skincare Facial Foam and Senka Perfect Whip.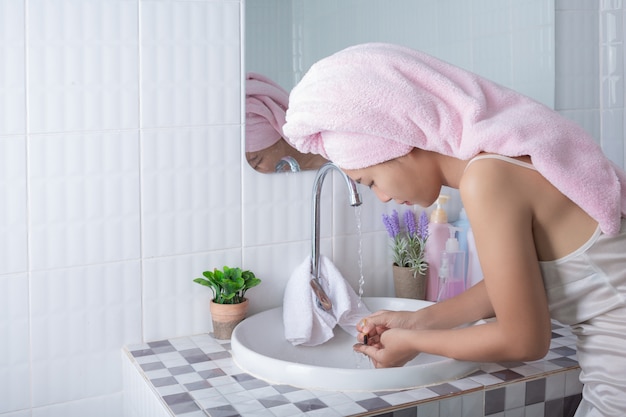 Step 2: Exfoliate (Occasional and Optional For Non-Sensitive Skin)
Exfoliate your face once or twice a week if you don't have sensitive skin. There are special products with exfoliating ingredients for sensitive skin, but this step is optional and should only be done occasionally. When it's the time of the week, use a facial scrub to get rid of blackheads and other toxic particles that clog your pores. 
Step 3: Use A Toner
For the third step of our Japanese skincare routine, you'll need to fix your pH balance with a toner that works for you. Massaging your face with toner can help you remove all the natural oils that have been sitting on your face the entire day. 
One of the best Japanese toners commercially available in the Philippines is HADA LABO Gokujun Hyaluronic Lotion. The brand just entered the Philippine skincare market this year, so you won't have a hard time looking for Hada Labo products in the metro. Hada Labo is known for its skincare products designed for sensitive skin. 
Step 4: Add Some Essence
Don't confuse essence with serums; they're different. Face essences are concentrated liquids that add hydration to the skin. They usually have the main properties of toners and serums, and they can help your skin absorb other products you recently used. For this reason, using essences religiously can protect your skin from aging and help you achieve a mochi-hada skin. 
Step 5: Apply A Face Serum 
Like essences, serums can remove blemishes, wrinkles, and dark spots. But the good thing about serums is that they target a specific problem on your face, so you can either apply it on your entire face or the problematic area. Choose serums that have active anti-aging and brightening properties like Vitamin C, collagen, and hyaluronic acid. If you want to know the specific type of serum that can address your problem, we suggest you look for beauty gurus and dermatologists at Rakuboss. 
Step 6: Moisturize 
The final and one of the most important steps in a Japanese skincare routine is moisturizing. Japan can be cold sometimes, so Japanese women moisturize their faces at least twice a day. Although there's an ongoing debate on whether or not people should moisturize in the Philippines—a tropical country, our skin still needs to be hydrated no matter the weather. 
For this step, try products with extreme hydrating properties. We recommend you to try Hada Labo Gokujyun Super Hyaluronic Acid Lotion Moist Type and Curel Kao Intensive Moisture Cream.